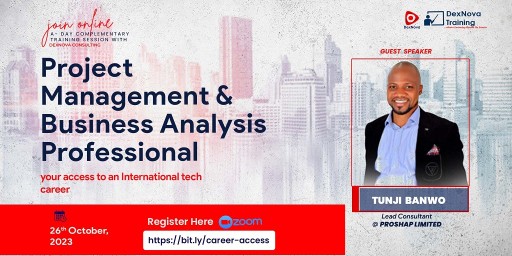 October 26, 2023 - 11:00
Zoom
Project Management and Business Analysis Professional Your Access to an International Tech Career
Unlocking Global Potential: Bridging Project Management and Business Analysis Expertise.
Your access to the international tech arena, where strategic project management and insightful business analysis converge to drive innovation and success.
Join the ranks of professionals who navigate the ever-evolving landscape of global technology with precision and foresight, ensuring that your projects not only meet but exceed international standards.
visit: https://bit.ly/career-access to register
EVENT INFO :
Start Date:

October 26, 2023

Start Time:

11:00

End Date:

October 26, 2023

End Time:

02:00

Number of Participants:

500

Location:

Zoom

Website:

https://bit.ly/career-access